UPDATE: Perhaps one of the best ways to be interesting and get noticed is being WRONG. Though we appreciate your interest in this news article, several of our keen readers tipped us that this ad actually shows an early prototype of Nokia 5800 XpressMusic. We've somehow let that one slip under our radars, so we apologize for stirring the community with a teaser of ghosts of cellphones past.
A supposed new video commercial of Nokia 5800 XM uploaded on YouTube seems to hide more than its uploader thought. The video actually reveals Nokia's next full touch device featuring a better camera and video recording and a slightly updated design. But is that a rumored Nokia 5900 or perhaps something along the lines of a more minor upgrade (think 5800i)?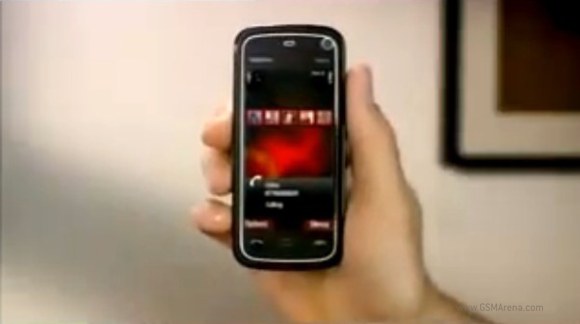 A tipster led us to this video showing a new touch phone by Nokia, which kinda looks like Nokia 5800, but not quite. As you can see, the new Nokia full touch phone has some interesting metallic trim along its sides.
The angular shape of this baby may lead you to believe this is actually Nokia 5530 XpressMusic there, but 5530 doesn't have a video call camera and one is clearly visible on the video.
But let's not keep you waiting any longer, here's the video itself for you to check out.
And thanks for the tip, Gayan, you were quite right in all your assumptions.
Great model number would be 5801 , I like'd the possible look of this 58th type nokia , but still looks like prototype... Wait did I've seen that this Nokia played *.avi file? Somthing new for me...
this looks very much identical to the proposed n98 nokia model, did u guys see the camera quality it was perfect, even for the video. the n98 is supposed to have 8megs camera with optical zoom, as I've heard, also the frontstyling is very identical. ...
It's unfortunate that anything makes news for Nokia here!!!