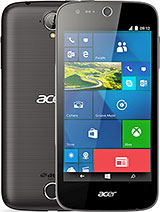 D
Dodot G, 14 Apr 2017SpeakerI just bought it 2 hours ago. Got it from a online seller from facebook and we met in Taboan.
I I think it is a nice phone. Hope the battery wont fail me.
D
Anonymous, 27 Dec 2016What is that circle on the bottom? A fingerprint sensor?Speaker
h1
Anonymous, 27 Dec 2016What is that circle on the bottom? A fingerprint sensor?Speaker... we all wished it was a fingerprint scanner lol.
o
I have this phone since 3 months.
I was a bit skeptical about à windows phone at first.
But so far, so good.
The phone does its work. The battery can go 2 days with moderate use ( calling, texting, a bit surfing, using as hotspot etc)
The Gps is fast and works perfectly.
If you want to listen music / video than you should better plug a speaker cause the one on the phone is not enough.
One of the good part is that phone gets updates almost each month, which is the good part of windows.
It works smooth, with no problem, although I would prefer 2Gb RAM cause sometimes I feel that couple of seconds waiting while accessing some apps.
Just one negative point is, if you download via 4G a lot than phone heats and ejects the micro sd card and does not see it until cool down and reboot.
If you are a user who does not need lots of apps and not a game fan than go for it. I use my tablet for gaming so I don't know about gaming performance of the phone.
p2
runs hot, really really really eats battery up , slow to charge, annoying to use, odd quirks weak speaker, annoying features, I'm taking mine back when I have time , I've been using my old nokia lumia 635 8.1 for the past 2 months, I've had the 330 for about 3.5 monthsat least microsoft will take it back with full refund, sloppy attempt at an inexpensive phone. I would not recommend it. My brother bought one also - his first "smart phone" he didn't know any different and he is finding it annoying to use too
W
Im impressed by the Loudspeaker of this device. Gives a good sound, compared to others. The battery, even with its 2000 mAh durable and bigger size than others, which are claiming to have more capacity. Its an entry-level Windows 10 mobile phone. It will go on the knee, when having more Apps open, or running them in the background. 1GB Ram is not enough to keep Apps running and switching between them. Camera quality is less than average. Still usable, if you cover the lense from the sun. Videos are played fluidly. Needs micro SD-Card to have more stuff on it. Screen surface is shiny, unfortunately.
M10924
These kind of phones need global availability
A3
Why this are low specs
They trying push it to india market / developing country many people don't get their chance on SmartPhone.this great for prices and just social media Ing.
Total of 10 user reviews and opinions for Acer Liquid M330.