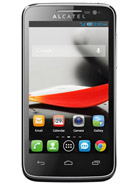 ?
i want this phone but all the reviews ive seen say bad things about it, should i get it?
?
So far the phone has been good but it freezes a lot and doesn't do so well on the internet which gets frustrating I've already had to take the battery out to get it back to normal. The camera isn't very good either. Overall it's a descent phone though.
R
It runs slow with very low memory, but what do you expect for the price. awesome!!!!!!!!!!!!
M
INTERNET SPEED OF THIS PHONE IS ONLY
7.2 Mbps?! Even LTE Phones will not give you the speed of Intel Pentium based laptop (you only get a full LTE Speed or full 3G speed when you connect a 3g or LTE Based USB modem to that laptop).

Ant the worst par is:
Only 512MB of RAM!



D202
I picked one up as a backup T Mobile phone or as a replacement for my disposable beat up old Galaxy S 4G for only $50. The One Touch Evolve gave a great first impression right of of the box, it feels quality for being super cheap. Screen is nice enough, kinda washed out but not horrible. The recent apps switcher works pretty smoothly and doing T Mobile 3G speed tests on its connection was returning a solid 2.0 Mbps repeatedly in my location. The biggest con I've found so far is that once I loaded more than 10 apps on it it bogged down big time. To the point to where I did a factory reset and just installed Googles apps the second time to keep it smooth. The second problem I had is that it wouldn't accept any micro sd card I own. It would either just not display it, or it would insist the micro sd was defective and needed formatting. I never figured it out, I just ran with internal storage. Third problem I encountered was my mobile banking app wasn't compatible; very odd because it's been compatible with every Android I've owned, even my Cyanogenmod running HP Touchpad. Come to find out I heard that it is because of the fixed focus camera that can't do Mobile Check deposits.

In the end; great bang for the buck. But sadly my 4 year old Galaxy S 4G still runs smoother with all my basic apps installed.
Total of 246 user reviews and opinions for alcatel Evolve.