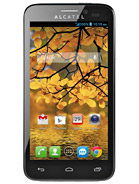 M
Can the bootloader be unlocked? I'm interested in getting this as either a back up or primary depending on whether or not I can load CM 10.2 on it.
S
How good is it compared to the Galaxy S Blaze? Thinking about this or that, and wanna find out which one is worth it. Also, is it out or is there a release date?

p
I just bought a OT fierce and can not find a case for it!? Anyone know where I can get one...clear,hard,jelly etc..? Thanx possumflower85@gmail.com
s
The specs fail to mention that the phone is 4g capable. It is not just a 3g phone. I recently purchased mine and so far love it. In some ways it does actually outperform my Moto Razr. I have heard all kinds of issues with the phone, but have not actually seen any of these issues. The biggest is issue I have heard of is the blue tint colors. That is not true, but the colors are on the cool side. My razr, by comparison is on the warm color side. Perhaps this is the blue they speak of, but if so, I disagree with the severity. I love how many of the comparisons are always of the much higher priced samsung galaxy phones when they compare a feature. a $700 phone vs a $160? They even compare $300 phones to it and always find something to ding about it. They try and try, but all I see is how good it stacks up against these pricy phones. Again, I have had the Droids for years (4, x, x2, razr) and while my razr is better than the fierce, it is not better overall.

The point is, for a $160 phone, it is a great buy.
d
Rnt, 09 Oct 2013Is alcatel a good brand phone???In my opinion..it's a great phone!
?
Rnt, 09 Oct 2013Is alcatel a good brand phone???they are the 6th biggest mobile phone maker in the world, mainly in ASIA AND AFRICA.

regards PETER
C
Rnt, 09 Oct 2013Is alcatel a good brand phone???i think at least it is good price and also very beautiful
Total of 551 user reviews and opinions for alcatel Fierce.