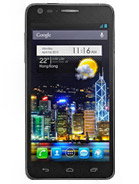 T
Anonymous, 10 Jan 2013are you serious? theres no 3.5mm jack..no earphones?This phone will come with a microUSB-3.5mm adapter.
T
Regarding the lack of 3.5mm jack, I was reading that will come with a microUSB to 3.5mm jack converter, so wouldn't be a problem.

Also the lack of microSD hmmm, I think with 16gb I would be good, but hmmm...

Also, I'm not sure if I want to buy this phone or the Galaxy S3, hope this cost less than $350 dlls.
A321
"Preliminary official specifications".So stop whining around,guys!
D
Had been using Alcatels for years and years (now I am on my 8th Alcatel).It's really great to see them gaining confidence with higher and higher end products :)

A5
There is no more room for the 3.5mm audio jack. :D
A2074213
Good new from Alcatel to release a phone like this. Looks great, super AMOLED and a nice screen. But, it should not be overpriced indeed.
?
This phone would be nice if it is cheap,if they overcharge(alcatel isn't that popular)then this phone is goin to crash.
3748
222
This has no card slot. Great! :P I just don't understand these guys.
Total of 234 user reviews and opinions for alcatel One Touch Idol Ultra.