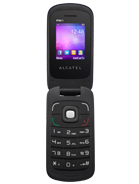 Derp, 12 Sep 2012OMg dis is da best fone evrrrrr! i got 1 n its amazin, way betr than a iphoine or samsung. 33... moreI KNOW RITE!!! who need iphone!!?? this baby has 4G :D
This phone is really neat and compact. The camera is only 2mp, but the quality of the pictures it can take is very nice. The OLED sub-display is useful (although the only problem is that you cannot turn it on and off while the phone is closed). The buttons are big and easy to use. The screen size is 128 x 160 which is perfect. Overall, an extremely good phone for someone who wants to keep it simple.
Total of 3 user reviews and opinions for alcatel OT-668.