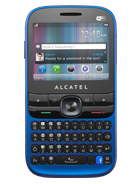 I bought a used alcatel 838 phone and I wonder if I can buy a strieght talk activation kit for it, if so how do I unlock it if it's locked, ( I haven't received the phone in the mail yet)

when i search the web on my phone all the letters are halved and i cant make out the word the search page is fine it happens wen it finds the page i request can someone tell me the problem
I have been searching all day and i cant seem to find out how to get my streaming to work. I have tried a few things and nothing is working. I want to be able to play youtube videos. Please help
Darthios Vanteros, 21 Feb 2013Managed to watch youtube videos on the phone. All I had to do is tweak the "Streaming... moreJust a thing, that 66666 you need to put on the url port isn't right becouse its a higher then the alowed, so what have you put, becouse i also want to see youtube videos
Darthios Vanteros, 21 Feb 2013Managed to watch youtube videos on the phone. All I had to do is tweak the "Streaming... moreJust a thing, that 66666 you need to put on the url port isn't right becouse its a higher then the alowed, so what have you put, becouse i also want to see youtube videos
Managed to watch youtube videos on the phone.

All I had to do is tweak the "Streaming" settings. Then when you click a youtube video, opera triggers the media player. Just specify the (one thousand something to 66666) ports and choose "only WiFi".

I now that every other phone in the market does that by default. But the 838 needs tweaking by hand.

So yeah. It can actually play youtube videos.
Lucky that I found the last 838 mobile in a shop, in my home town. Bought it for 54 euros.

Never used an Alcatel device before. And I have to say that I'm totally satisfied with the built quality and the overall functionality of the phone.

Using it for 2 days now. So I m not an experienced user. Till now no issues. Basic phone with wifi that surfs the internet.

Only downsides it doesn't play youtube videos. The video recorder exports only 3gp files which means crappy video quality.

BUT has built in facebook, twitter, e-mail, bbc news, weather, opera apps.

Do I recommend it? Definitely. For that price. One of the best phones you can get. If not the best phone.
my steaming will not work in my phone i cannot watch videos on my internet !!
It's a OT-813 with another external apperance, and less memory. If the price is about 80USD, a great phone, as I have a OT-813 and it's worth the price. A great mobile phone.
Total of 11 user reviews and opinions for alcatel OT-838.