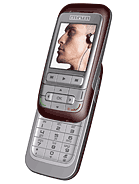 The phone should come to Germany soon. Check with www.protel.de for the exact date.

As for sales... Alcatel is doing better then you think, sure they could do a lot better... but they are doing fine as they are.
could some one tell how about alcatel phones sales performance in germany, it look like not good enough.thx.
This phone will be available in September or October. If you want soft copy manual for this you may email me at nelson_maus@yahoo.com.
Any news on this phones release?
As the C825 is available in parts of Europe and C701 is available in UK.
Yes the federalized versions will be using the GSM 850 frequencies.
Went to Cellatel.com, discovered that some of the models they intend to sell in the States are not tri-band..like the OT-E805. Maybe there's another version of the C717 to suit North American markets
It is not tri-band because it is not intended to be sold in the US. The C820-825 which is the same phone with some added features and a nice more upscale look will be sold in the US and thus that will be tri-band.
why why why why ??!!!! why is it dual band!!! man!!! everything else is so perfect!!!
Total of 75 user reviews and opinions for alcatel OT-C717.