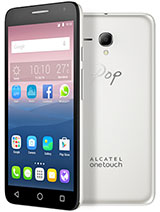 K
The only problem so far that I have with this phone is that Instagram cant be installed. Tried all the troubleshooting steps available but still cant dl ig. Anyone who experienced the same?
T
8 mega the rear camera, it has radio.
large and clear screen.
sound while calling is excellent and pure.
buttttt , the volume of music is not loud (high) enough, especially, with the downloaded videos and music.
Thanks Alcatel for this outstanding moblie.

31
10
the battery is built in and non-removable
and have Radio
the camera is 8 mp

Total of 25 user reviews and opinions for alcatel Pop 3 (5.5).