Some leaked documentation, allegedly belonging to Japanese carrier NTT DoCoMo, is referencing the specs of the local version of the Sony Xperia Z1 (SO-01F) as well as a device dubbed Sony Xperia Z1 f (SO-02F). It's believed that the Z1 f is actually the long-rumored Xperia Honami mini.
The smartphone is said to shares the quad-core 2.2 GHz Snapdragon 800 and 20.7 MP camera with the bigger Xperia Z1. The difference comes from the display - 4.3" 720p vs 5" 1080p, battery -2300 mAh vs 3000 mAh, and dimensions - 127 x 64.9 x 9.4 mm vs 144 x 74 x 8.5 mm.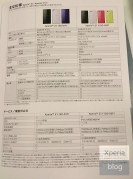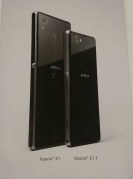 NTT DoCoMo documents on Xperia Z1 mini (click to enlarge)
The specs in the document align nicely with some previous leaks, but they also contradict others about the size.
Still anything's possible and we expect to Sony put an end to all speculations by making the smartphone official.
please realase the Sony Xperia Z1 mini urgently!!!!!!!!!!!
I'm really sure that it will not like what you've said.. Just wait until it released officially..
Nah, you're wrong.. I think many people wants to have this Z1 mini version.. S4 mini with all of its spec downgrades is not comparable with this Z1 mini.. Sony release this device just for peoples who want a smaller size of Z1 without lowering any sp...