Chipset maker Allwinner recently announced that it will be entering the 64-bit market but it hasnít lost its focus on highly affordable white-box tablets where the company's strength lies. The new Allwinner A33 is touted as the world's first $4 chipset with quad-core processor and it has entered mass production.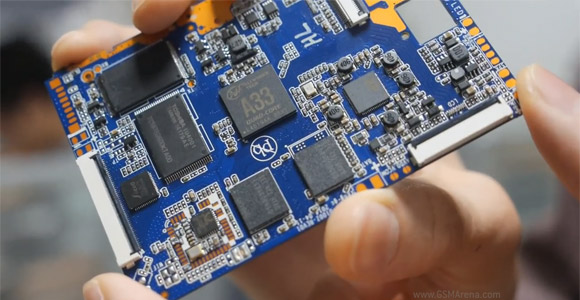 Costing less than certain cups of coffee it targets 7" to 8" tablets in the $30-$60 range, so we can't expect the A33 to be a speed demon.
Still, the Allwinner A33 has quad-core Cortex-A7 processor and a dual-core Mali-400 MP2 GPU. It supports displays up to 1,280 x 800 and can play back 1080p @ 60fps video. It also integrates SmartColor, which keeps skin tones in photos and video from getting oversaturated, and "ultra-low power consumption."
Allwinner claims their design is more power efficient than competitor Cortex-A7 quad-cores and on a 4,000mAh battery can last 300 hours in standby more or 6 and a half hours of 1080p video playback, 6 hours of 3D gaming (Fishing Joy) and 8 hours of music playback.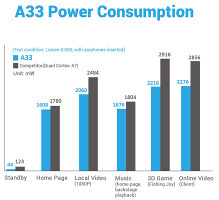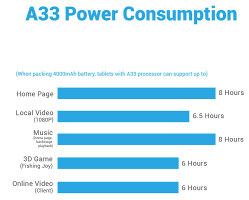 Allwinner 33 power consumption figures
Here's an video walkthrough of Allwinner's facilities and those of its partners. It also features an overview of several tablets based on the Allwinner A33 chip from different manufacturers.
The A33 is pin-compatible with the A23 (based on a dual-core Cortex-A7), so tablet manufacturers can easily upgrade to the new design. Allwinner is also providing support for the factories making tablets based on its chips.
Exynos > Snapdragon > MediaTek > Allwinner > Rockchip
I did run Asphalt 8 Airborne on my a phone that has Mediatek MT6582 chipset (quad core 1.3GHz A7 cpu and Mali-400MP2 gpu) and 1 GB RAM at mid settings. It wasn't impressive, but it wasn't bad as well. Play the game without long delays or lags.
"Quad-core A7 and Mali 400 GPU and see how they perform in real world tasks" I have a few of these in un branded tablets all running 1024 x 600 with 1080p hdmi out. They are running droid 4.4 kitkat perfectly. They play the latest games and for ...