Android 4.1.2 Jelly Bean hits the Sony Xperia J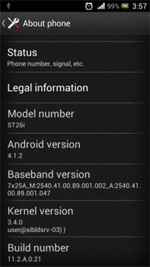 Today is a good day for Android 4.1 Jelly Bean updates after the AT&T One X and Micromax A110 Canvas receiving the good update news, now it's Sony Xpera J's turn.
The firmware update bears the 11.2.A.0.21 build number and updates the baseband as well. Naturally, Xperia J users will finally get a taste of Project Butter and the numerous features that Jelly Bean has on tap. The Xperia J is the latest Sony smartphone to get the update keeping up with the Xperia T, TL and V.
As per tradition, the Android update should hit the Xpera J's in an over-the-air fashion. However, in case it doesn't, just hook the phone to the PC Companion and check the update's availability there.
So, with the Xperia J checkbox marked, who's next in line for an update? It seems that the Xperia TX is due to taste those jelly beans in the weeks to come, but nothing is confirmed just yet, so stay tuned.
Guys I have a solution, download a calibration app from play store and then calibrate it.then restart your phone and it will work properly.👍
please how to do my Sony xperia j cannot turn on my I if I urn on always blinking and back to off switch if you know to problem and reply me agawinDan@gmail.com
Everything is fine except my mobile sound has got reduced in headsets...as well the loudspeaker is also getting distorted with noise.not clear!