Android 4.3 Jelly Bean now available on Asus Fonepad 7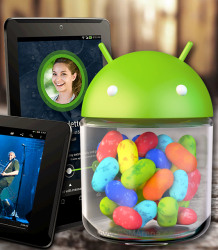 Asus has announced the 7-inch Fonepad 7 hybrid on IFA back at September last year. It quickly gained some popularity due to its very attractive price tag and unique mixture of tablet and smartphone experience although it didn't exactly turn into a best seller. Still that doesn't prevent Asus from taking good care of it and here comes its first major update.
Originally the Fonepad 7 hit the shelves running on Android 4.2 Jelly Bean. Asus didn't specify any upgrade plans, but it seems the manufacturer has been working to bring a newer Android version on the device.
So, the Android 4.3 Jelly Bean is now available as an over-the-air update for the Fonepad 7. It brings improved video player and image gallery, Gallery Home Front, and other UI improvements. There is no official change log though, so more upgrades could be hiding under the hood including improved system stability and bug fixes.
Anyway, if you own a Fonepad 7, you should check your Update section. There is no info on further updates, but we hope Asus decides to bring Android 4.4 KitKat to Fonepad 7 too.
Before upgrading to Android 4.4.2 kikat you should know that this version of Android doesn't let you save your files on external sd card anymore. I did it and now I'm very sorry because there is is no way to downgrade it.
How to upgrade my Asus f0nepad 7 2014 from android 4.3 to 4.4 kitkat. Please let me know on my mail ld
Hi all I have a asus FonePad 7 but I don't know to upgrade it to android jelly bean :( please help me ....