Android 4.3 update for HTC One now rolling out internationally
If there's one thing you can give credit to HTC for, it's being quick with the Android update on the HTC One. After years of lagging behind Google with respect to the latest updates, the company has been consistently quick in delivering updates for their newest flagship device.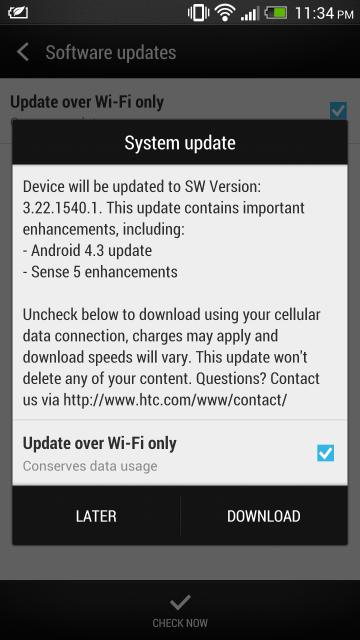 Earlier this week the company promised that they will soon start rolling out the Android 4.3 update for the HTC One. And as promised, users are now seeing the update notification pop up on their device. Several users on xda-developers forums are reporting getting the update on their phone.
If you have an HTC One, check if the Android 4.3 update is available for download, if you haven't got the notification already.
Thanks Dijon Vula for sending this in.
Hi Leslie, I am also one if the few in SA who have a one and love my phone! My phone sometimes says updates stopped unexpectedly when it starts. I suspect that it is trying to update to 4.3 but can't. Have you found out any more about 4.3 u...
I am having the same issue as you. I hate not having the zoom bar which I discovered at the Muse concert last night so no decent pics of my favourite band! Very dirty. It's gone from an extremely user friendly phone to the complete opposite. A nig...
hi i have the is great phone but the only problem I'm stuck on 4.1 ,my phone is telling me they is update,but it crash when I'm trying to do it any help?