Android 4.3 update for Samsung Galaxy Note II rolling out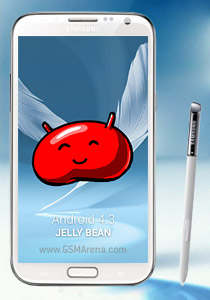 During the weekend an Android 4.3 update for the Samsung N7100 Galaxy Note II (the non-LTE version) leaked, but it wasn't compatible with the N7105 (the LTE version). That doesn't matter anymore as Samsung is rolling out the official update for both.
The update is reportedly more stable than the problematic 4.3 update for the Galaxy S III, which along with the Note II launched with Android 4.1.2 last year. Samsung decided to skip 4.2 and go straight to 4.3.
Anyway, the update is rolling out in stages, so don't worry if you don't get it immediately.
You can use Samsung Kies on the PC or just check for updates on the Galaxy Note II itself through the About section of the settings menu.
Here's a changelog of the new features, which also includes support for the Galaxy Gear smartwatch.
TRIM support
OpenGL 3.0 Support
ANT+ Support
Samsung KNOX Implementation (KNOX bootloader and dedicated application)
Samsung Wallet comes pre-loaded
New GPU drivers
Improved RAM management
Improved Display colour reproduction (Display looks much sharper than before)
Improved TouchWiz Launcher (Much less launcher redraws and less lag)
New Samsung Keyboard
New Samsung Browser (Full screen by default, new tab interface and more) and other apps
New Reading Mode (Optimises display for reading, used by only a few specific applications)
New Camera firmware, Sound & shot
Minor UI tweaks (Contacts app, Flashlight Widget, dialog boxes etc)
Android 4.3 features – widget lockscreen, daydream
I update to 4.3 yesterday 20-Apr-2014, so far my side is the Gallery makes me hang not working, samsung updates fixing this issue please ...... thanks
Not being to tech savvy I though I was the only one that had problems with the version 4.3 upgrade. After the upgrade, the multiwindow function has automatically been disabled and it cannot be switch on no matter how I tried. The menus has change and...
very annoying update: *can't store custom words *battery runs out outrageously *phone has become slow