Android 4.4 KitKat now available on international LG G2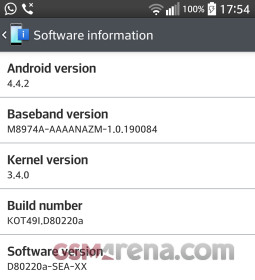 The Android 4.4.2 KitKat update for the international LG G2 units is now available for download via the OTA service. The KitKat firmware has been available for the Korean LG G2 since December, while the AT&T's users got it the last week of February.
Naturally, the update will bring you the latest Android OS version with all of its improvements including faster performance, better battery life, plus enhanced Knock On feature.
The update will roll out gradually so it could take a few days or weeks before the Android KitKat firmware becomes available for your LG G2.
Here is the official change log from the AT&T's update, which should apply for the international one as well.
Improved user interface with Android 4.4 KitKat: The latest version of Android includes enhancements such as restyled status and navigation bars, a new full-screen mode, improved closed captioning support, and stronger security.
Improved battery efficiency: the phone plays music more efficiently and supports the battery-saving location mode, extending battery life.
Faster processing speed: The latest version of Android provides a noticeable speed boost that runs applications 17 percent faster than before and web-browsing speed is mproved with the Chromium engine.
Printing in the Cloud: Google Cloud Printer makes it simple to print documents via Wi-Fi or a Bluetooth connection.
Enhanced "Knock On" feature: The responsiveness of LG's Knock On feature has been improved.
Thank you, DuVerre, for the tip!
Hey dude, did you get the phone from another country? Because I bought my LG G2 from eBay that's on AT&T and I've put my 3 sim in, works and everything but the problem it doesn't update it just keeps saying that the phone is not registered... So ...
Check for the APN...When my phone got updated all the APNs got deleted...I just created my network's APN and now internet is working fine...
PLEASE HELP ME it's been about 4 months and I'm still on jellybean...after I download the OTA update it fails to install and data invalid software package...It's about 500mbs and I've tried this twice with the same result...if any of you have gotten ...