Apple iOS 7.1.1 is now seeding, brings minor improvements
Apple quietly released iOS 7.1.1. As its number suggests, the latest firmware update from Cupertino brings minor improvements, security and bug fixes.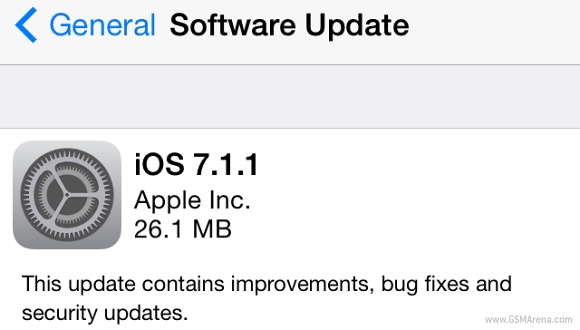 The new OS update is 26.1MB large. It improves Touch ID fingerprint recognition, fixes a bug which could impact the responsiveness of the keyboard, and remedies an issue which occurs when Bluetooth keyboards are used with VoiceOver.
If you havenít been prompted to install the update on your compatible Apple device, head over to its settings menu to check if it is available.
after updating to 7.1.1... there start a battry pplm ... it drains very quickly . how to downgrade this softwere to 7.0.1 .... plse help...its iphone4
Can i update the IOS 7.1.1 in iphone 4s its usable or any problem pls suggest me.
whenever such thing would happen again,,, put your finger on the proximity sensor and the release your finger.. pick up the call :D