Apple iPhone 5 to go on sale on October 15th, Orange confirms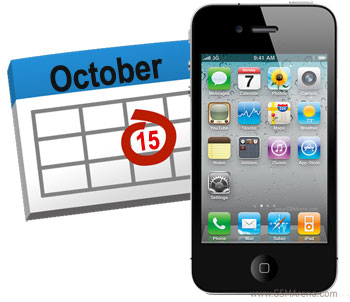 We can imagine Apple won't be particularly happy about that, but the CEO of Orange might have just spilled the beans on the availability of the iPhone 5. He said that if he believes what he hears, the next iPhone will be out by 15th October on his network.
Since CEOs of major carriers like Orange rarely get their information from anywhere else, but the manufacturer itself, this one seems rather trust-worthy. Stephane Richard also went on to say that they will be special packages on offer for the iPhone 5, but that's hardly a surprise, considering the importance of the smartphone to carriers.
Earlier today, we also heard an interesting rumor about the availability of the iPhone 5 in the UK. This information, however, comes from O2's customer service center so it's a bit harder to believe. And there's little sense in Apple releasing the smartphone in France, before they bring it to UK, so it's unlikely that both of those are true at the same time.
So, if the iPhone 5 is to come in the middle of next month we should be looking for its announcement event to be scheduled for the end of September. That nicely coincides with the rumor that iOS 5 will be getting its Gold Master release on September 23th.
Yeah, the waiting is killing us too, but at least we know its end is finally nearing.
I lost my I-phone 4-s and replaced it with what is Supposed to be BETTER (a Samsung Galaxy lll and I am not only DISSAPPOINTED in the phone BUT i can't wait to replace it with the I-Phone 5. Apple products have proven to be MUCH more EFFECTIVE and...
am realy want iphone 5 l can pay 700£ any thing you have
Vodafone is giving LBM two-thousand devices to upgrade existing iPhone customers, on Friday 7th October 2011. What managers are saying is this is before any stores or networks are launching the new Apple device.