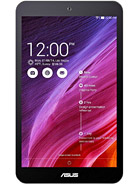 T
I got one of these a few months ago as a gift for my wife. I was jealous! Found a great deal at local retailer for a purple one. Took the original gray I had bought her, gave her the purple. Now we both have a great 'value' tablet! Does everything I need it to do. Much easier to handle than larger 10"; can hold with one hand. Love it for a whole lot of reasons.
d
Good GPU performance for gaming.but its keep hanging, web browsing is terrible. ASUS confirmed that they wont upgrade this to Lollipop (even it is only one year old). Too bad this thing has 64bit processor. Asus customer support is bad. I request for a language support (sinhala), but they didnt mind. Overall good product, without further support from vendor.
f1
I had this tablet for 1 week until it froze.
I took it to an Asus authorize repair-shop but they couldnt fix it! Luckily I was in time to fill for a refund.

Now I have a Samsung Tab 4
n
I have this tab for 2 months and counting. I'm totally digging with this tab, great screen and battery, good CPU and GPU performance. 720p (not full HD) screen is not bad on this tablet, good for watching movies and web browsing. I used it often for FB, reading ebooks, and some games like candy crush, clash of clans, asphalt 8, Modern combat 4, etc. Battery drains quickly on high end games, averaging to 4.5 - 6hrs (depends on screen brightness). Very inexpensive with a comparable performance to samsung tab pro and s. Few updates on software already done, tab is now completely lag-free. Got this on Amazon with case, screen protectors and 2 32GB microSD on a very good price! By the way, no problems with reading/writing on 32GB microSD card.
Few problems I see is the transferring of apps to mirocroSD higher than 100MB, an error occurs. Also, few delays on getting to home screen and rotate. Anwyay, still a great bargain.
c
Kat, 06 Oct 2014Can this open excel files? thanksYes, open and edit.
Regards
h
himdim1023 AKA Robot
7IPC
I have had my meMo pad 8 for 3 months. Love it. It runs high power apps and games. Just beat Modern Combat 4 a 1.98 gig game. And still had 33 other games. It's not even slowed down runs them fun and slick. I feel that if this wonderful tablet had the words Apple or Samsung on it would of cost me $300 to $400 easy. And It looks great in one's hands. Has a great back texture that won't slip. Great screen and valum and power button in a perfect spot for me being right handed on the upper right side. If you are looking for a great inexpensive great tablet Asus is a perfect tablet looks great and runs android perfect. If you don't need big over priced names to breath and do day to day smart technology or smart device things like web browsing, playing games state of the art mobile gaming, movies, streaming, downloading huge files this is a great great tablet. I don't have a smart phone so this is my toy. When I do, it will be the Asus new Zenfone 2 that is coming out this week at ces 2015. Like my great meMo Pad 8 the Asus Zenfone 2 is a high level grade smartphone but $200 price tags. You will start seeing these great Asian smart technology coming and going to take a dint on the Apple and Samsung market. To each there own and I am going to stay on this inexpensive reliable technology not ride. It's top notch, typing this to you now with my meMo 8. You all have a great new year and no matter what enjoy what ever it is you choose to enjoy I will be playing the he'll out of Google play store games and having fun. Peace....
h
Kat, 06 Oct 2014Can this open excel files? thanksit can read and create/edit excel files check play store for "sheets" app by google
Total of 32 user reviews and opinions for Asus Memo Pad 8 ME181C.