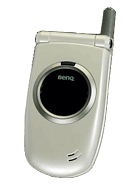 s
i have this and its on vibrate ,how can i put it back on ring i have tried everything....please help
g
i dont now how to search the ring tones composer pls email me any new song composer to my email





thank you
gawri
g
impressive xternal features. u hav 2 b very still 2 get a clear pic, speaker sounds seems lilting, face morph aint impressive,over-all a good handyphone pack w/ features. not bad for benq.
M
It looks like the Innostream Inno 90... but ofcorse, the inno 90 is much betta.
s
shd include infrared faciliy in this model....otherwise all features are best...
K
To chudzikhov:
wat was ur question?
Basically BenQ phones are not sim-locked phones which means it can work on differnt ISP.
c
I've Tmobile card could I use my Benq S660C in france how this work , what I have to do ?
Total of 13 user reviews and opinions for BenQ S680C.