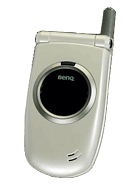 i have this and its on vibrate ,how can i put it back on ring i have tried everything....please help
i dont now how to search the ring tones composer pls email me any new song composer to my email





thank you
gawri
impressive xternal features. u hav 2 b very still 2 get a clear pic, speaker sounds seems lilting, face morph aint impressive,over-all a good handyphone pack w/ features. not bad for benq.
It looks like the Innostream Inno 90... but ofcorse, the inno 90 is much betta.
shd include infrared faciliy in this model....otherwise all features are best...
To chudzikhov:
wat was ur question?
Basically BenQ phones are not sim-locked phones which means it can work on differnt ISP.
I've Tmobile card could I use my Benq S660C in france how this work , what I have to do ?
Total of 13 user reviews and opinions for BenQ S680C.