BlackBerry OS 10.2 update kicks off this week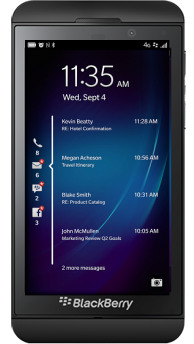 BlackBerry has just announced the rollout schedule of the OS 10.2 firmware update. BlackBerry Z10 and Q10 and Q5 are the devices eligible for upgrade, while the Z30 is running on 10.2 out of box.
The BlackBerry 10.2 update brings a new Priority Hub, BBM Video with Natural Sound feature, messages preview from any app, better keyboard, easier sharing options, lockscreen notifications, better calendar and reject call with SMS/BBM option.
BlackBerry 10.2 launches for the BlackBerry smartphones in Africa, Asia Pacific, Canada, Europe and the Middle East this week. Latin America will be getting the update in November, while USA will follow at the begging of the winter. Of course, the update rollout also depends on if your device is unlocked SIM-free or carrier-locked. If you got your Z10/Q10 on a contract you may have to wait a few more weeks to get you phone up to date.
If you want to know more about the new features in the BlackBerry 10.2 update, follow the source link below.
After updation to 10.2 my q5 turning to silent when touch to screen while incoming call
I am not an bb user but have too admit their Os 10 Is a different and better than previous Os 5,6 , 7 and is a good overall redesign than e.g Ios 7 with all its bug and a friend of mine now has android apps working on his.
More cool and amazing features in this 10.2 update. Those who are still saying negative comments to BlackBerry are the people that have never used and try these new BlackBerry 10 OS and just wasting their time on their laggy Androids and cheap boring...