BlackBerry CEO shows off new Passport and Classic phones
BlackBerry unveiled an odd new device – the Passport. It has a square 4.5" screen with 1,440 x 1,440 resolution, essentially a QHD screen cropped to 1:1. Below the unusual screen is a rare sight these days, a three-row QWERTY keyboard.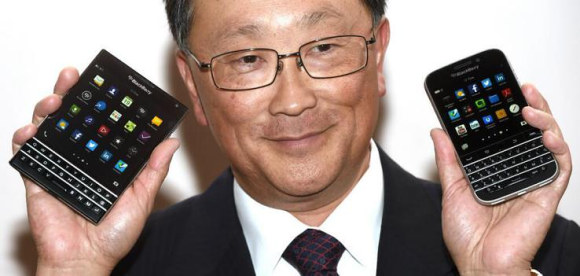 The BlackBerry Passport will be a wide device, the screen alone is about 81mm wide. For comparison a Samsung Galaxy Note 3 with 5.7" display with 16:9 aspect ratio is just under 80mm wide.
Additional specs of the new device are unclear though it's said to have a much more advanced chipset than the old Snapdragon S4 Pro in the BlackBerry Z30, a Snapdragon 800 say the rumors.
There's another new device too, the BlackBerry Classic. It's a successor to the current Q-line and has a hardware QWERTY keyboard too. It will have a more manageable screen – 3.5" in diagonal, also square (the resolution is unknown). The Classic will also see the return of the familiar optical trackpad.
The new Passport and Classic were proudly shown off by John Chen, who took over as Blackberry's CEO last November. Chen said early this year that new BlackBerrys will "predominantly" have QWERTY keyboards.
The Passport will launch in September, while the Classic is expected in November.
I am waiting for Iphone6 but considering to stick with BB as I have one BB phone. BB just needs additional apps but over-all it is a great phone next to Iphone. Can't wait for BB Passport or Classic.
i like that phone is amazing. i cant wait till launch in india
Thank U BB for making a nice physical kb phone again(Classic). I really like that start call, end call and classic trackpad is back. Cant wait when U launch it in Australia.