Spigen posts a Samsung Galaxy Note III render on its website
A Samsung Galaxy Note III teaser with a rendered image of the device has been posted on Spigen's website. Spigen, in case you haven't heard the name, is a company that manufactures cases for a huge variety of smartphones.
So, out of the blue Spigen has published a teaser image of the upcoming Galaxy Note III phablet that is going to be unveiled on September 4. The render definitely looks plausible and while there's no way to know if it's the real deal, it probably bears quite a lot of resemblance to the final product.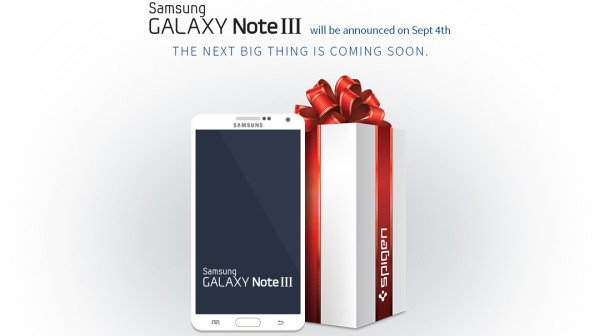 The Galaxy Note III is rumored to pack a 5.7" 1080p Super AMOLED display and run on Snapdragon 800 or Exynos 5420 chipset depending on your region. It will offer 3GB of RAM, a 13MP sharpshooter, expandable 16/32/64GB storage and LTE connectivity. A huge 3200 mAh battery will power the monster and, naturally, you can expect an integrated S-Pen.
The third generation Samsung Galaxy Note will go official next month, on September 4 in Berlin. We will be live at the unveiling, so be sure to tune in for the full scoop on the phablet.
Was iPhone fan turned Samsung fan had the first iPhone, then the IPhone4, iPhone5, then got the first Samsung GalaxyS1, followed by Tab, S3, S4, Note2 and Note8. still have my iphone5, as a second phone, but keep pressing the non-existent left an...
Why do they insist on using AMOLED? This is crap tech. IPS LCD is the king of color accuracy and sharpness. I pass on the Note 2 because of the display, and now will pass on this again. They really should come out with 2 versions so I can at lease h...
i wouldn't say samsung are lazy it takes a lot of money and time to generate a known brand. in a sense they are being smart by keeping a similar well known design.