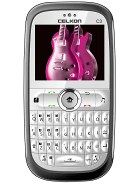 hey frinds.... help me... to retore factory setting it ask the input password can any one tell me about that...... in celkon C3
I activated the Mobile tracker service in my CELKON C3 mobile, by some reasons i need to deactivate this service from my mobile. While doing that one i have been getting the dialog box which asking the password. I forgot my password . So please help me out in this to solve my problem.Please help me. I need reply.
Total of 3 user reviews and opinions for Celkon C3.