Chinese HTC One 802w has microSD card slot, two SIMs
A Sina Weibo user with early access to the HTC One version tailored for China Unicom has pictured the One 802w smartphone. The picture reveals a removable back cover, two SIM slots (WCDMA) and a microSD card slot just under the 4 MP camera lens.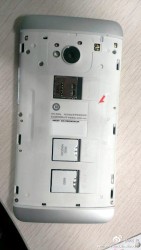 Taking a peak under the HTC One 802w back cover
The HTC One will globally be available with either 32 GB or 64 GB of storage built-in but without the expandable option, which has caused quite a lot of controversy.
There's no word if the 802t (China Mobile) and 802d (China Telecom) versions of the HTC One will also come with expandable storage and two SIMs but the 2 at the end of the product number can be indicative of the dual-SIM abilities. The European version's model number is 801n.
Hi. I have bought a HTC 802W and like to share my experience as user. I have bought this phone in first week of February from Dubai by paying extra for extended one year warranty, till date I have not be able to use it for several reason. 1) User...
the 802w version has software updates disabled. it comes with android 4.1.2. and thats it. no updates.also, google services are not available. playstore is there. but somehow this phone is meant only for the chinese market. i am so stuck.
Whats the diff b/w HTC One M7 802w and HTC One M7 802d For 802w, I see the freq as 2G Network GSM 850 / 900 / 1800 / 1900 3G Network HSDPA 850 / 1900 / 2100 For 802d, I see the freq as SIM1: Up to HSPA (900/2100 MHz) and up to EV...