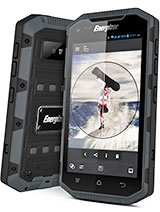 D801
This phone is very bulky and odd I thought Energizer made batteries apparently not the 3000 mAh battery is great the megapixels on this phone are amazing. 4.8 Stars
s
i have problem ip68 energy500 this new when i play game in VR gyroscope cant stop rolling but i already set the gyroscope sensor what i need to do? i dont have any idea to solve this problem on my energizer energy 500 and one thing problem cant update to new virsion lollipop. i was disapointed company plz..help and fix this problem....
m3076776
18.8mm thickness and all they could put in it is a 3000mah battery. Even some 7mm phones have bigger batteries than that! This is a joke!
t
andrea, 02 Apr 2016and ' it broke the charger cable , and I can not find a cable that fits the market .... have a... moreHi andrea,

I meet the same problem. Have you find a solution ?

Regards,
tchounga31@gmail.com
a
and ' it broke the charger cable , and I can not find a cable that fits the market .... have all the short plug and do not come to make contact. how can I do?
M
Yet another re branded phone. Usually sold as "V8 Hummer H6" on Chinese web shops for $200
?
is this some kind of joke?
is it just me or anyone else did check on the release date of this dummy?
well yeah i did, four times - Feb 2016!

why bother to invest if u wan to fail?
procssr of 1GB? and a 13 MP shooter with only 720p?
sure it looks rigid BUT would you still be able to use this phone with a glove on as per advert?

As a company well known for its Battery module - with Energy 500 rigid outdoor looks - a 6,000mAh and 20MP shooter and 4GB 820 Snapdragon - would easily secured them a number ONE spot for being the best 'outdoor' phone and of course - a DEFINITE homerun!!

who exactly were responsible behind all these models release?? - simply a moronic act, nuff said - and these kinds of people allow to be rich, jeezzz!!
M
Only things I like it long lasting battery, if you claim this then show it. Not showing at all.
B42
They should launch 6,000 mAh model with ability to charge other phones. If you are top in the battery business, step in GSM world with a style.
Total of 12 user reviews and opinions for Energizer Energy 500.