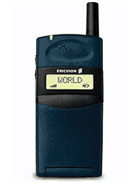 I worked in one of the 3 factorys that produced the plastic shell for Ericsson mobile 1994-2000.
Remember the letter "e" stands for enhanced. This because the normal 788 had problem/design fault with the sound funnel within the door/flap.
was my first phone, was a very handy phone to have, woukd recommend it to anyone who likes retro phones lool
Ah, the late 90s, good times :) Classy phone, functional phone, stylish and compact, what more did you want!?
my first phone!!!! i used to love it...i couldnt send sms but i loved it! ahahah
hahaha this phone was really nice when i was in first grade of high school
This is my legendary phone my first phone and my first phone of Ericcson! Back in 1997, I was in high school. Damn it that time cellular price so expensive! I still remember this phone is the best ever first release with vibrating, that's way i brought this at that time.
it was my first mobile. it was good but the baterry didn work so good. even so it was a romantic time of cell phone
Iím about to send one of these off to a recycling companies however Iíve lost the charger and the battery has died. Does anyone know whether there is any information (phone numbers etc) stored in the phone with this model, or was it all stored on the SIM?
I have it since 1998. I have change a dozen of phones since then and Im still using it. It's small and it has the best belt-clip I've ever seen on a mobile. Its the most praktical phone i ever used,(believe me I have used a lot...)
I am interested in purchasing the above unit. Is the same availabe and what is the cost.

Total of 15 user reviews and opinions for Ericsson GF 788e.