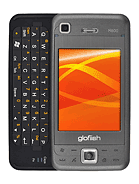 please i wound to have copy of this phone cuz it look well like business tool and notepad. i thick it well be a good product in market if the priuce is reasonable. That just the thing
Andrey - if it uses the same screen as the X500+, which it most likely does, then yes it is 2.8 inches @ VGA resolution.
actually i'll buy this one whenever it is out on the market co'z im toooooooooo rich

- Richie Rich
looks like eten x500.... i m going to buy m700... shall i wait for this phone??
I wonder what is the size of its screen. It main competitor I-mate 9502 has 2.8 inches. If this one had a bigger one, it would be a definite advantage.
Its....sooo...ugly. Well the front is, the keyboard I can live with. Why can't eten make this phone light up like to g500 did? that was a visual 'wow' factor for that phone.
Total of 69 user reviews and opinions for Eten glofiish M800.