The Samsung Galaxy Note 4 ad campaign is already underway but Samsung is yet to officially confirm anything. One of the more interesting rumors is that the Note 4 will use a three-sided display, which slopes on the left and right sides to enable unique functionality.
Update: And so it turns out this is nothing but a concept created by Ivo Maric as far back as May. Move along people nothing to see here.
A tipster send us this image that allegedly shows the Galaxy Note 4, which was sent for testing.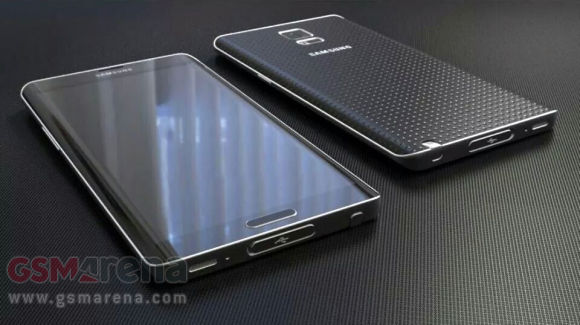 Note that this differs from previous Note 4 photos we've seen. The leather texture on the back is different - this one is the perforated leather of the Galaxy S5, while the previous leak showed the more natural pattern of the current Galaxy Note 3.
Another difference is in the microUSB 3.0 port. First off, this one has a flap. Second, the metallic edge here is even, while in the previous leak showed a thicker edge going around the USB port (similar to the Galaxy Alpha design).
Of course there have been rumors of two Samsung Galaxy Note 4 versions - the three-sided display is allegedly difficult to manufacture and will be featured on a low-volume version (perhaps South Korean exclusive) while the more traditional display will be on the mass-market version.
This is the first rumor we've caught from this tipster so we can't vouch for their credibility. We've certainly seen fakes of this caliber executed before. The Galaxy Note will be unveiled on September 3 at IFA, until then don't forget the salt.
Love the 3 sided display concept. Groundbreaking enough to keep Note as the phablet craze leader. I would definately upgrade from my Note 3 to Note 4 of it had that display. The rubberized backing is another story. Items with rubberized textu...
It would be better if fm radio is enclosed in note 4.8
I love the design of the note 3... I don't mind if the note4 design same way bud different materials an bigger battery an come with fm radio.