In a rare twist Walmart will be offering discounts on the iPhone 5s and iPhone 5c at launch day. You can pre-order the iPhone 5c starting tomorrow, but you'll have to go to the store to pick it up. The iPhone 5s is only available in store.
The 16GB iPhone 5s will cost $189 at Walmart, $10 less than the official Apple pricing. You'll have to opt for a two-year contract on AT&T, Verizon or Sprint, of course.
The 16GB iPhone 5c gets a $20 price cut and you can have it for just $79 with a two-year contract. The iPhone 5c will be available on pre-order tomorrow, but you'll still have to go to a store personally to sign your contract and then once again to pick up your phone on September 25.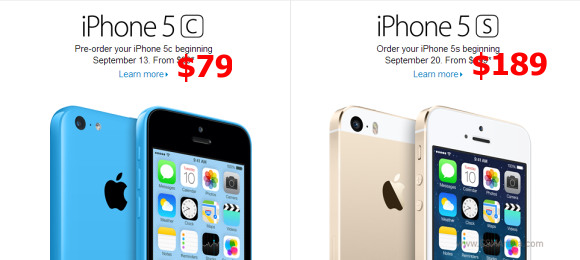 Walmart is also slashing the prices of the older generation iPhones starting tomorrow. The already discontinued iPhone 5 model now costs $79 with a two-year contract until supplies last. The iPhone 4S and iPhone 4 new prices are 97c and 10c, respectively plus you'll get a $100 gift-card with the iPhone 4 purchase.
There is no indication how long these price cuts will last, though you can bet all new iPhones will go out of stock before September 20 is over (those reserved for pre-orders not counting, of course).
I want a 5c because it just looks like it could do more and other people tell me they are good😂😄😄&­#128512;😀😛😄&­amp;#9786;️☺️&am­p;#9786;&#65...
well im not willing to buy an iphone even if it has his price cut to 400 $ not because i dont have the money i just think its not worth it. and i dont live in the u.s so i dont what income do they have. but my state has an average income of 500$ per ...
I love iPhone , everything about it . So even if the price tag is sky high , I will still buy it . And when the 5s will be available in my country , I will be the first one to buy it . But it is annoying to hear people complaining about how expensive...