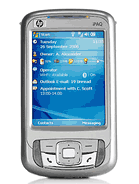 This pda is fantastic and very useful.It's so little but have a great screen and so easy to carry ;) All software i downloaded work correctly and so fast.Cam is ok for a pda.Sound quality is fine and last and the most important very user friendly.Don't think just go and buy this pda :D
Can somebody tell me whether i can send pictures taken usuing a professional digital camera; thru this phone ?either thru the mini USB or thru the memory slot, is it possible, i will be thankful if somebody can reply me.
Could someone tell me if i could install yahoo messenger on this PDA phone??
Had this phone for a week now and must say it's the best windows mobile pda phone i've used it's very small, and works very well with decent battery life, could do with a qwerty keyboard although i am comfortable with what it offers on the keyboerd side.
Total of 187 user reviews and opinions for HP iPAQ rw6815.