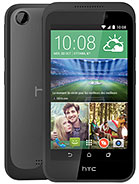 ?
Anonymous, 21 Jan 2015In GSMarena this device showing with LED flash. But in HTC homesite it No LED flash. Though wh... moreI hope at my country comes with LED flash and 1GB RAM the Canada version
?
In GSMarena this device showing with LED flash. But in HTC homesite it No LED flash. Though which is correct info......?
p
i have a desire 310 but im lookin forward to buy this phone when it comes to my country
A
LoroViejo, 11 Jan 2015Can this phone take panoramic pictures??? Please somebody?Yes, the stock camera app let's you take panoramic photos.
R
It has indeed a Mediatek MT6582 ARM Cortex-A7 quadcore cpu running at 1.3ghz. The GPU is a Mali-400 MP2 running at 500mhz, 512MB of RAM (at least the model I have, there could be 1GB variants).

I have been using the device for around 3 weeks now, and for its price, its a great device. It has great processing power and great graphic capabilities (also the resolution being FWVGA lets the GPU give more FPS in games). The device low points would be the RAM, which does not let you multitask with too many apps, for example opening Chrome with three tabs, the Play Store, YouTube, a game and Maps would mean that when returning to Chrome it would load again (of course with the pages that were open) but its not a problem other than that.

It comes with KitKat 4.4.2 and it's rootable. It also has a proximity sensor.

My HTC Desire 320 is rooted and customized with the Xposed Framework running 5 modules and I am very glad to say everything has been running smoothly. Running programs, games and emulators have been a breeze. Very happy with this device, great device power for the price.

?
loveneesh, 05 Jan 2015Which chipset it hasMediatek...yes loveneesh
64
7
Anonymous, 05 Jan 2015Snapdragon 615I don't think is that...

Probably SD400,410 or some kind of a Mediatek...

as is a cheap device...
F
I don't understand the naming logic. Usually the higher the number the better the phone. So how could. A Desire 320 have a way better processor than Desire 6xx? Or is HTC just throwing random numbers after the Desire name?
Total of 135 user reviews and opinions for HTC Desire 320.