HTC One X gets Android 4.1.1 Jelly Bean update with Sense 4+
Exactly a month ago HTC launched the Android 4.1.1 Jelly Bean update for the One X in Asia and now the update is available for CID_038 or CID_044 versions of the device around the world, too.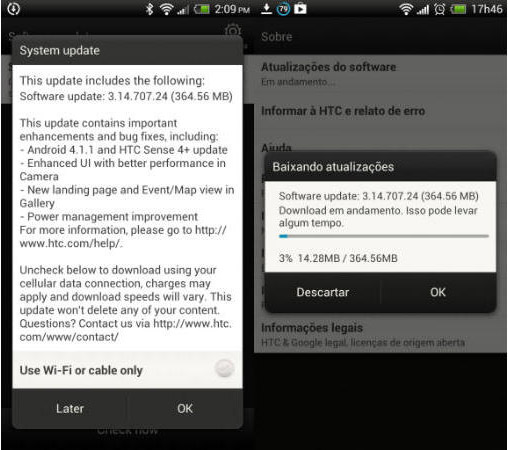 The update is 364MB in size and requires users to download а precursory 1.6MB file, bringing the software to version 3.14.707.24. Afterwards, the regular Android 4.1.1 update process will commence.
As seen in the screenshot provided by AndroidAuthority, the software bump brings HTC Sense 4+, new landing page in the gallery as well as improved battery management. The HTC One X owners bound to a carrier contract will have to wait probably to the beginning of next year to get the 4.1.1 Jelly Bean update. Bummer, we know.
The mid-range HTC One S is still waiting for its software update to Jelly Bean, and the company is still mum on details. We do hope it gets pushed before the end of the year, though.
After downloading the system update, when it comes to install it, I click on a option of 'Install Now' then my phone got restart, and ClockworkMod Recovery v5.8.4.0 screen is coming and it has some options to click, reboot system now install zip ...
After the upgrade to 4.1.1 i cannot transfer data to my pc as the option to do that has disappered!!! any one with a solution to this problem
After upgrade to 4.1.4 (with HTC Sense 4+) from 4.0.x, the soft keynoard disappeared !!! So I could not type in applications, like Whatsapp... Any idea? Please advise. Thanks.