HTC officially confirms Jelly Bean coming to One X, XL and S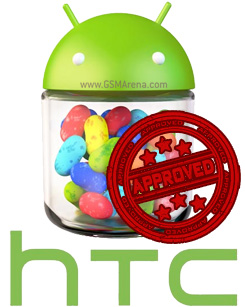 Yesterday, Telstra let the cat out of the bag - HTC is working on a Jelly Bean update. Today, HTC officially confirmed it and offered the full list of devices that are planned to get the update.
There are no big surprises here - the HTC One X (the Tegra 3-based model), the HTC One XL (Qualcomm S4-based version, known as One X on AT&T) and the HTC One S will eventually be updated to Android 4.1 Jelly Bean.
The smartphone maker will make "timing and other details about HTC and Jelly Bean" available to the public later on.
The HTC One V, which is the lowest rung on the One series ladder, is not on the list of devices to be updated and neither are any of the droids outside the One series.
I spend 30+ thousand in my HTC Sensation xe and They are providing Just one Update ICS and also its too late now a days Google plan to lunch new update lime pie but HTC Still not Providing Jellybean in sensation so point of view is if HTC is not able...
All of Sensation series will get JB update, only problem is that we have to wait to much for it.
Come on guy's ...! I pretty sure that, sxl will upgrade to jb. supos away, with little delay... DON'T WORRY.