The Huawei P10 and P10 Plus will launch in March or April this year. This was revealed by the company's Chairman and CEO of the consumer division Yu Chengdong.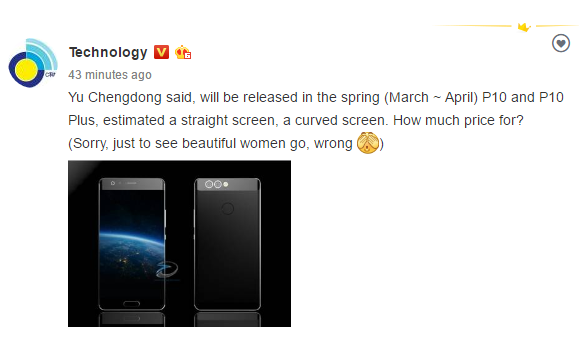 The post seemingly also reveals that the P10 will have a non-curved display, while the Plus variant will come with a curved screen. Previous rumor from last month said the P10 will also come with a dual curved screen.
Specs-wise, rumors say the P10 (and P10 Plus) will be powered by a HiSilicon Kirin 960 SoC and will sport a 5.5-inch QHD touchscreens. RAM is going to be 6GB, while storage will top out at 256GB.
Qualcomm is a company that does the snapdragon chipsets for the smart phone companies. Some companies solely rely on them others produce their own in-house chipset and huawei produces their own. Huawei has used Qualcomm's snapdragon few times for the...
Why can't they use Qualcomm chips like everybody else.
huawei phones are not certified water proof but they are up to some extend. P9 lite could be under water for more than 2 minutes without getting any fault at all. P9 could get some audio fault after two minutes of under water, any other thing works p...