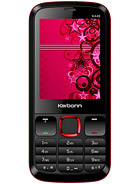 H
No provision to even adjust volume of speaker or mic. How BASIC can one go that we have to sacrifice even this?
I have checked the accompanying USER MANUAL.
No mention of volume adjustment.
DON'T BUY THIS PIECE OF JUNK.
D
Its there any password setup for message inbox? And how to configure internet connection in this mobile?

pls any one can clarify my questions!
S
Karbonn K440 Phone buying tomorrow. this is a basic phone.you want just basic phone you buy this phone. user friendly. Low Price.
P2
1) There is no dictionary for typing message
2) There is no groupwise playlist

Total of 13 user reviews and opinions for Karbonn K440.