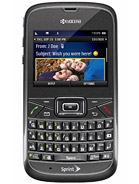 At work, my company got Kyocera Brio phones for all of us to carry and use. It is a great little phone, with good sound quality and nice pictures.

It is not a smartphone, and so should not be compared to them. The Brio is very durable, and wears well. Ours are now three years old and , for the most part, still work just fine.


Total of 2 user reviews and opinions for Kyocera Brio.