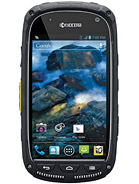 NO! It can NOT be used on GSM network. The SIM card is a secondary authorization to the CDMA network. STUPID IDEA!!!!!
indonesian, 22 May 2014too bad, its cdma not gsm network..It is CDMA but may also work with GSM (has a mini sim card slot)
the only thing that sucks is that u cant use it outside US because its using a non removable sim. crap. if that can be use intern'l that will be awsome
Why US and japanese phone operators have the most interesting handsets in the world?
my 1st phone was from kyocera hurrah . kyocera known for tough phones
23133
unique, 29 Jan 2013I should rate it 9 stars for feature the missing star for the camera cause its important in im... morehey men I think 5mp camera is good !
good device
Total of 12 user reviews and opinions for Kyocera Torque E6710.