Just a few days ago LG led us to believe that the G3 and G4 would be getting updates to Android 6.0 Marshmallow pretty soon, since the Korean company has already referenced them in its support documents for the devices.
And now, in a surprising development, it looks like the older G2 could be receiving the latest version of Android as an update at some point in the future. The G2 is already two years old so this would be unexpected for its owners.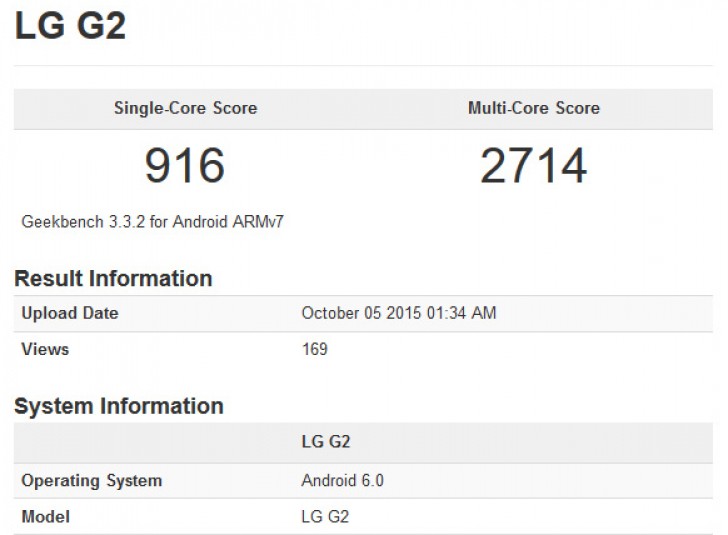 An LG G2 running Android 6.0 has been seen in the database of Geekbench, one of the most well-known benchmarks for Google's mobile OS. So someone is clearly testing such an update. Of course, even if this is real (such benchmark runs aren't impossible to fake), LG could simply give up on the thought of bringing Marshmallow to the G2 in the future. So don't get your hopes up just yet.
LG hasn't been a fan of Android 5.1, as it hasn't updated either the G3 or the G2 to this release, so perhaps the company wants to skip that iteration of the OS and jump straight to 6.0.
Via (in Hungarian)
I dont know man but i guess LG left us in the air, i love LG phones but thinking of buying Samsung, LG takes forever to update their OS's
I was reading last night, and it was saying it could be up to 2017 before all the older Android phones get updated if at all. I feel like LG left us in a crappy place with leaving the phone with 5.0.2.
I have mine crossed too because the fact is that performace is not an issue having in count that the phone performs way better than g3 and ram should not be an issue either if we keep in mind that g3 has a 2g variant and other mid-low end manufactur...