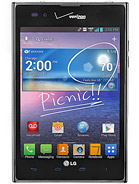 r
except s3 remaining phones optimus G / vu2 / l9 / iphone 5 / one-x are ugly for samsung fan boys . LG rocks ... best display and powerful
r
Optimus Vu 2 is Best phablet available in market for browsing / notes /typing etc we need a wider screen. if you dont like aspect ratio then buy the best phone with best display and best chipset for videos and other entertainment --- optimus G
T
I'm looking forward to it coming to Australia, the size is good, they might be on to something here. I can't stand the shape of current devices, always long shaped and limiting what you can. Cant wait.
D
Anonymous, 22 Sep 2012The Ugliest Phone i Have Ever SeenI agree with you..looks very ugly phone!
r
I think tihis is a good idea on 5' display
Lg can capture screen and take note on the picture
Not a bad gadget for vacation!!
Total of 95 user reviews and opinions for LG Intuition VS950.