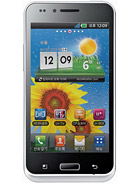 O
Yeah rite. If u want to argue about dual core p, then motorola atrix was the first. Then u should say samsung copy motorola. But hey, optimus 2x came before the samsung GS 2.
n
AFP, 07 May 2011guys y dont u try of samsung galaxy s2 this LG is copy of that samsung GS2 its far more bettar... morecome on don't be stupid... LG came up with the Optimus 2x before Gs2 and its yet to be release!
A
guys y dont u try of samsung galaxy s2 this LG is copy of that samsung GS2 its far more bettar than this LG just read the specs u will no ur self which 1 is better
Y
According to the specifications sounds good but there
is no boom in the market abt the piece.Is black colour metallic body is available in the market.




v
i REALLY hope this phone hits the US market - or at least finds it way to e-bay
t311
Smith, 26 Apr 2011After using the LG KM900 Arena... Never LG again! Simple as!!Understand your point entirely, however all companies need a wake-up call, and I believe LG have woken-up now.

I tried the LG Optimus ME, to be honest even being a budget phone it is so good you cannot describe. Decent BRIGHT white screen with very vivid colours, sound LOUD, froyo and was it FAST for a budget phone, Angry Birds literally flew along, lol. I was so impressed I looked at the Optimus x2.

LG got in a rut with the viewty/cookie style thing but trust me they are worth a look again. Some constants do remain though sadly like I found no cd in box and where is the download? Also, the T310 they have released has it seems no headphones in box (we all recall viewty lite (KU990) with a radio and no way of using it out of the box, CRAZY!

But on balance, give LG another try you may this time enjoy the product, especially the Optimus ME which costs peanuts.
d
Interesting phone LG have gone quiete lately in the smart phone market yes they have had the optimus range but they haven't gained much interest.
V
I don't think this will get rolled out to the other markets ....

First of probably very few posts on this phone ...
I
"Announced 2011, April" and you still have no information about the dimensions... strange
Total of 95 user reviews and opinions for LG Optimus Big LU6800.