LG Optimus G Android 4.4 KitKat update reaches India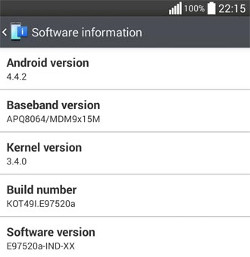 The LG Optimus G launched to much fanfare a couple of years ago as the precursor and basis for the Nexus 4. Yet while Google's version of the handset has been kept up to date with Android versions as you'd expect, the Optimus G has been stuck on Android 4.1 Jelly Bean.
Curiously, it hasn't received updates to either 4.2 or 4.3, but it's planned to get Android 4.4 KitKat. In fact that update has already rolled out in LG's home country of South Korea a few months ago.
And now it's finally been spotted outside of Korea, reaching many Optimus G owners in India. Hopefully this means other countries will get the tasty KitKat treat very soon, as LG promised back in June.
Back in India, the update can either be grabbed over-the-air after your phone has notified you that it's available, or using LG's desktop software. The OTA file is around 500MB in size, while the LG Support tool will download around 1GB of data if you use it.
If you're interested in what has changed, aside from the bump up in the Android version and everything associated with that, hit the Source link below for a detailed list.
Thanks for sending this in, Roohi!
Green LED light blinks during charging or while not in charging only for missed calls, text messages notification but doesn't blink for any other notification such as whatsapp message etc...
Did try that twice, service center guys also tried to reset it an then they changed the PCboard and got it back on 4.1.2, issue resolved, they said to wait till they get the official update.
Got the PCBoard replaced from LG service center (problem solved) and they advised not to upgrade to Kitkat as they dont have the official update.