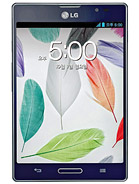 i
I am an iPhone fan but quite frankly, I like this phone. I always liked kinda square screens, like the good old Desire HD. I prefer this to Note II.
F
between this and note 2 sure people will go to note 2 , but between LG optimus G and s3 people will go to lg optimus G coz the s3 is so ugly .
L
Since the daily interest in this phone is 0.4%, people are really going crazy with all the buzz, yeah right. Now go look at the buzz for the Note 2.
3748
222
The Note 2 looks better, and it has better specs.
j
-P S-, 28 Aug 2012First! Hahah!Now the samsung galaxy note 2 killer!!!! keep it up Lg!!! :Dseriously it is the ugliest phone i have ever seen
Y5
Awesome buT when this phone come to madagascar?
-3094
iSJ5, 28 Aug 2012another cdma fone!stay cool bro,remember,this is a korian version,the global version will be a GSM....
BTW,now a days lg performing well.
The lg optimus G is way better than sgs3 even iphone 5.
And now they made vu 2,which i think is better than sg note 2...
Lg rocks...
:D
-3094
The Lg optimus vu (Korian version) had dual core snapdragon processor,but International version had a tegra 3.
Now,if this is Lg optimus vu 2 (korian version) is a dual core krait,
then the international version of the vu 2 will be a quad core krait....
wow,this is intresting......
Lg is becoming more innovative...
Total of 551 user reviews and opinions for LG Optimus Vu II F200.