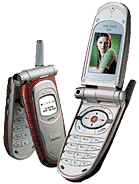 J
The phone I have was bought under the label 02 though I had to brouse on the Internet to discover that it is MX-A30. I love it so much because of its features, design and lightness. But the main problem is the battary. I am tired of recharging the battery more often than any other phone I have ever possessed. Where can I buy a battery that can last at least two days!
J
It has the PC link feature which is enable a user to exchange the image/ringtone.
k
is one of the best phones on that price and that functions. The photos are verrrrrry gooooood :) and the design is perfect, so... i think that the low price + the best design can make you pass the software bugs (not many) only in the games, but, hey! who needs phone games when you have a pc? :)
g
more a Q.
Wife got one, do they do a pc download lead for this? can'f find one anywhere !
Gazbo
M
I got this phone twenty days ago, it is very cheap as compared to its features. I was feeling proud to have one beautiful set in my hand. Today it made me diappointed when it started automatically going off. I thought it is a low battery problem. I replaced the battery. Now when I click it "On" , it starts and gots held. All keys , no active. It gets incomming call, displays CLI, but I can not accept or reject the call due to inactive keys. To put it "Off" ,I have to remove the battery.

I do not know, what the hell happened with it. I tried to contact the Maxon web site, but all the e-mail addresses mentioned there are wrong.

I feel now , myself very diappointed.
If any body , so nice, kindly advice me, "What to do?"

S
As said before to the UK this an O2-X1 phone. I have had nothing but trouble with it and would recommend anyone contemplating it to go and buy a decent phone. Closing the phone while playing a java game will corrupt the game and randomly switch the mobile off, writing a message is slow and clunky, the only way to get pictures off the phone is by MMS (could not find a data cable for love nor money) phone would randomly switch itself off for no reason, sometimes recieved messages would not be announced.

I will admit the phone looks pretty nice and it has pretty good mobile web access and handles new ringtones and java games (while not a smooth as on other mobiles) quite nicely but it lets itself down on software.
n
get one then!!! dont post on here about it!!! wtf do you want us to do?
C
I have the phone in my hands right now, and I can say it's one of the best phones I ever had... |Romanian txt| Am telefon chiar acum in mana, si pot spune ca este unul dintre cele mai bune telefoane pe care le-am avut.
r
this phone ROCKS!!!!!....lol in and alternative universe ha ha ha ha....better luck next time rubbish Maggott
N
This cellular wireless telephone was launched in the United Kingdom by mm02 as the O2 X1, and I would advise against it. Why? A lot of these cellular handsets were returned and refunded because the software was severely bugged.
D
Quite possibly the most unreliable phone ever released . On xmas eve 2003 I sold 75 of these handsets (granted they were a very popular xmas gift). It is now July and I have had 73 returns , I presume the other 2 customers don't know they have a warranty. Absolutely Awful!!

David Wightman

ActivMobile Carlisle , UK
Total of 15 user reviews and opinions for Maxon MX-A30.