MediaTek MT6592 octa-core CPU goes through AnTuTu
Back in the heat of the summer MediaTek announced the world first true octa-core processor. Dubbed the MediaTek MT6592, it features eight Cortex-A7 CPU cores utilizing the 28nm manufacturing process and is able to run them all simultaneously.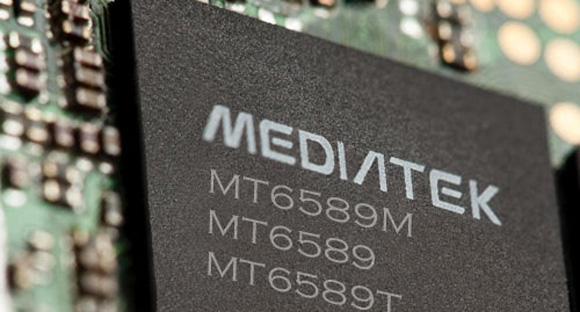 Now that the MediaTek MT6592 prototypes are already available, it was only a matter of time until one of them gets benchmarked. The test of choice was AnTuTu 4.0 and it gives us an overall idea of the chipset's performance.
The test was performed on a prototype running said octa-core CPU operating at 1.7GHz paired with a Mali-450 GPU, 1GB of RAM and a 720p HD display. In this configuration, the AnTuTu benchmark suite returned a score of 25,496 points. As you can see in the chart below, that's a not too far behind the scores of the Snapdragon 800 beasts and almost on par with the HTC One rocking a Snapdragon 600.
AnTuTu 4
Higher is better
Samsung Galaxy Note 3




31,109

Sony Xperia Z1




30,850

LG G2




30,243

Sony Xperia Z Ultra




29,185

Samsung Galaxy S4




27,613

HTC One




26,389

MediaTek MT6592 prototype




25,495

LG Nexus 4




17,006
MediaTek has officially confirmed that the chip can run at 2GHz. The higher frequency should be able to return more than 30,000 points, and software optimizations might help improve the score even further, but that's yet to be confirmed and remains just a speculation at this point.
A couple of months ago Qualcomm released a video bashing MediaTek's octa-core chipset, saying that it's not the number of core that matters, but their performance.
It appears Samsung doesn't share Qualcomm's view on the matter, thought, as it also announced it's working on a true octa-core Exynos chip. The company has confirmed it won't update the Galaxy Note 3 or the Galaxy S4 with true octa-core capabilities, suggesting that it's probably saving it for the upcoming Galaxy S5 flagship.
why I added LED flash for the front camera, the reason is that in most cases many people have a need for video call communication, we are located in places where the need to respect privacy, without lights and quietly, so the laptops and tablets dire...
Octa core will be great with multi windows feature that is comming out of android soon. Qualcom is sourgraping, mtk core is powerful enough to run android tasks and do it efficiently through its multi cores. Its SoC integrated gpu is powerful as well...
The cores are low-end Cortex A7-cores. Which means single-thread performance is crap. So this chip makes absolutely NO SENSE at all. Single-thread performance is much more important than the amount of cores for real world performance in rea...