The Windows 10 update for the Microsoft Lumia 535 has started rolling out in the Middle East. Specifically, Lumia 535 users in Egypt and Jordan have reportedly confirmed the roll-out.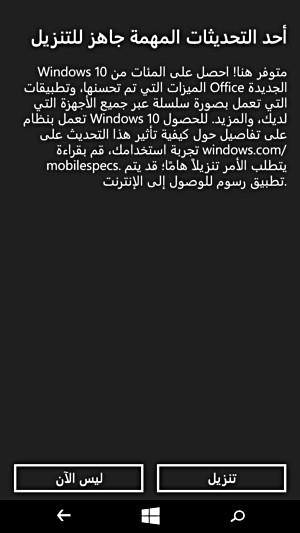 Sadly, no other information related to the update - including even the version number - is available at the moment. On its part, Microsoft is yet to formally announce the roll-out.
If you recall, there were reports last month that Windows 10 Mobile rollout for older Windows Phone device will finally begin in the "early to mid February" timeframe. So, the Middle Eastern roll-out is very much inline with that timeframe, and indicates that other regions (as well as devices) will get the update soon.
This comes nearly a month after the update started hitting Lumia 535 units in Latin America.
Hi. I am living in Iran . why update Windows me ten yet?
You can update lumia 535 to win 10. Its fantastic. Use upgrade advisor to install win 10
if u upgrade ur lumia 535 to windows 10 u might find: 1.some keys might be not functional to play games 2.when u play songs u can observe a glitch in the interface 3.u cannot reduce the font size on whats app 4. it drains ur battery.. Ov...