Following the rollouts for the Moto X Style, Moto X Pure Edition, Moto X Play, and Moto X (2nd gen), Motorola has started pushing out the Android 6.0 Marshmallow update for the Moto G (3rd gen).
This iteration of the company's best selling smartphone ever was launched in July, and as is usual for the G line it pairs a decent price with decent specs.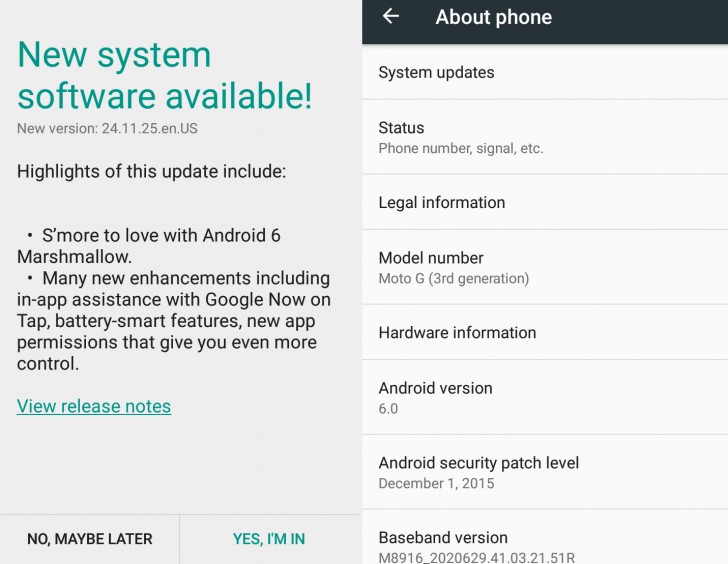 The update is rolling out over-the-air in the US and Canada, currently only for handsets purchased unlocked and SIM-free. That said, the Marshmallow release is bound to spread to other versions of the 3rd gen Moto G soon.
If you own a Moto G (3rd gen) and get the update notification, you are apparently looking at a 2GB download, so it's probably best if you grab it via Wi-Fi. After applying it, you'll be on software version 24.11.25.en.US.
The update incorporates Google's security patches created up to December 1, and it obviously contains everything that's new in Android 6.0, including Now On Tap and the revamped permissions system. As previously announced, Motorola is also removing its Migrate and Assist apps in this version.
That seems to be correctly configured then! Once the command window opened, did you type in 'adb devices' or did it automatically show 'list of devices attached'? Also, have you gone to the developer options on your mobile and enabled USB debugging? ...
Yur issue got solved or not?? M olso facing the same. Plz do help me noe
Hey, I tried moving everything to desktop and opening it there. No luck. Update while writing this post; I tried moving the file named adb and AdbWinApi.lld out from platform tools folder and directly in 15 Second ADB Installer folder. I think ...