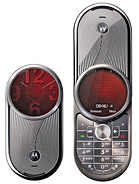 ?
You gotta be kidding me. The build quality sound greats, but it looks ugly as sh!t.
1
This phone should be sold for $5 maximum.

Thumbs up for motorola for leading the Suck! table.
A
This is so cool!!! You guys must not remember about 9/10 years ago they released the Motorola V70. Looked exactly like this phone and stuff it twisted around. They upgraded it and made it look better... You can't expect every phone to look the same, it's called innovation and I think this is a wonderful concept. This is the predecessor: http://www.gsmarena.com/motorola_v70-333.php
Total of 987 user reviews and opinions for Motorola Aura.