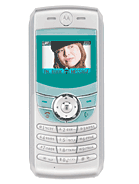 Small display and only 1 MB memory (enough for 40 photos in VGA)...but VGA-Cam and USB! That's great
I took some pictures with the phone, but I can't seem to download them to my pc! Has anybody else had better luck?

-----------------------------
Striiiings
www.geocities.com/cellomuse/index.html
VgA camera in such a small low-end handy!!!..it could be good..but the memoy..1mb??..and the screen is very small...
well i'll please like u to give me the price of this phone and i want to get one so please anything forward it to me.
Thank you.

Total of 249 user reviews and opinions for Motorola C550.