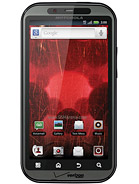 I love this phone. It's a lot heavier than any phone I've owned. I'm slowly adapting to that, though. The only other thing I'm going to have to get used to is the way it saves you opened web pages. I'm used to the way normal browsers save webpages...with tabs.

I would highly recommend this phone to anyone. I even found a really kool protective carrying case on Amazon for under $15. It's rotating, ratcheted belt clip also turn into a stand for the phone.

I must say, I'm truly impressed with the phone.


Total of 1 user reviews and opinions for Motorola DROID BIONIC XT865.